Photovoltaic

MediaKroton
promotes the development of energy from photovoltaic sources.
Thanks to many years of experience in the sector, we are able to offer custom solutions for all potential clients.
Planning, installation and maintenance of Photovoltaic installations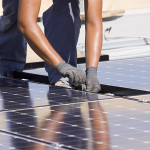 MediaKroton provides its clients with turn-key solutions for small, medium or large PV installations, from residential to utility scale plants.
Thanks to collaborations with numerous partners, we support our clients in analyzing their energy needs and in selecting and implementing the solutions that best meet their specific requirements.
MediaKroton and its partners also manage all phases of plant monitoring and maintenance, always assuring maximum output and efficiency.
Supply of standard PV modules and BIPV
Over the years, the MediaKroton team has acquired extensive technical experience in the photovoltaic sector. This experience has made it possible to select partners throughout the world who can supply us with the highest quality products.
Our company selects the best photovoltaic modules for its clients, both for traditional applications and for architecturally integrated projects (BIPV).
MediaKroton can satisfy any requirement thanks to a wide array of product offerings:
Mono and multi-crystalline silicon modules in various sizes: from the classic 60 cell configuration to customized products
Colored modules for aesthetic applications or to satisfy zoning requirements
Glass-glass or glass-ceramic modules for architectural or aesthetic applications
Hybrid modules for the co-production of electricity and hot water
Flexible modules for marine or special applications
Supply of raw materials for photovoltaic module production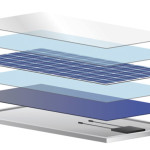 MediaKroton is a leader and point of reference in sourcing raw materials for the production of PV modules.
Decades of experience and strategic alliances with numerous partners who are the sector's leaders, allow us to offer our clients top-quality materials and support in optimizing production processes.


MediaKroton sells and distributes numerous raw materials thanks to exclusive agreements with its partners around the world:
EVA (Ethyl Vinyl Acetate)
Backsheets
Glass for photovoltaic modules
Aluminum frames
Junction Boxes (JB)
PV cells manufactured in Europe, Taiwan or South Korea
Ribbon
Silicon sheets and membranes for laminators
Silicon for fixing the JB to the frame
Double-sided tape for adhesion to the frame
MediaKroton also collaborates with SEA Ecoservizi s.r.l. for the disposal of photovoltaic modules that have exceeded their lifecycle, thanks to a unique technology that recovers up to 98% of the component materials in crystalline silicon modules.
Transfer of know-how and start-up of production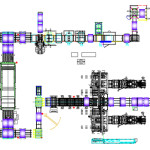 MediaKroton provides customized technical consulting for the construction of photovoltaic module manufacturing facilities, photovoltaic cells and for renewable energy technologies in general.
MediaKroton's executives and their partners possess a deep understanding of these processes, gained through many years of installing and managing manufacturing facilities in Italy and abroad. Thanks to this expertise and the skills of the teams we manage, we are a "one stop shop" for starting up new industrial projects.

The transfer of technology and management know-how includes:
Analysis of technical and economic feasibility
Selection of the appropriate technology and machinery
Definition of product specifications and certifications
Definition of qualitative standards and controls
Selection of suppliers and negotiation of supply contracts
Design and layout of production lines
Installation of machinery
Definition of production procedures
Start-up of production and ramp-up to a continuous 24/7 cycle
Training of production and operations personnel
Definition of reporting and management control systems
MediaKroton is not simply a technical or management consultant, but an actual partner for your new industrial enterprises. We provide our clients with the highest technical and managerial expertise as well as in-depth knowledge of the specific market and its dynamics.